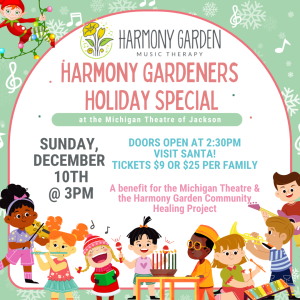 We would be honored to be a part of your holiday tradition!
Event Details: The Harmony Gardeners wrapped up the summer concerts at the park in October, teasing a Holiday Special… Well, that is exactly what this is! We have crafted a holiday special concert for you full of fun songs to celebrate the season – for young and old!
Benefit for What Exactly? The Michigan Theatre is allowing us use of their beautiful space for the weekend as a partnership fundraising effort for the Michigan Theatre of Jackson and the Harmony Gardeners Community Healing Project. The Michigan Theatre is in the midst of their Capital Campaign in order to restore the theatre to keep it operating in Jackson. The Harmony Gardeners Community Healing Project is our program that allows us to put on our Summer Concerts at the Park and also provide EcoSphere Scholarships to any family who needs assistance in order to access our Early Childhood Music Program. We have given out over $5500 in EcoSphere Scholarships in 2023 – a total of 55 children!
When: Sunday, December 10th
RSVP to perform: The children who RSVP, will join the Harmony Gardeners on stage within the concert, for a few familiar songs! We have also invited our Ukulele kids to join the performance! The rest of the kiddos can dance and sing along from their seats in the audience.
Cost – All proceeds from ticket sales will go to the benefit causes listed above:
$9 per person
$25 per family
FREE – we know some families just do NOT have expendable income – we want everyone to attend, so contact Jaime if you want a free family ticket!  jaime@hgmusictherapy.com
Thank you to our Sponsors!
Thank you to our Partners!