Thanksgiving! Songs And Music Fun!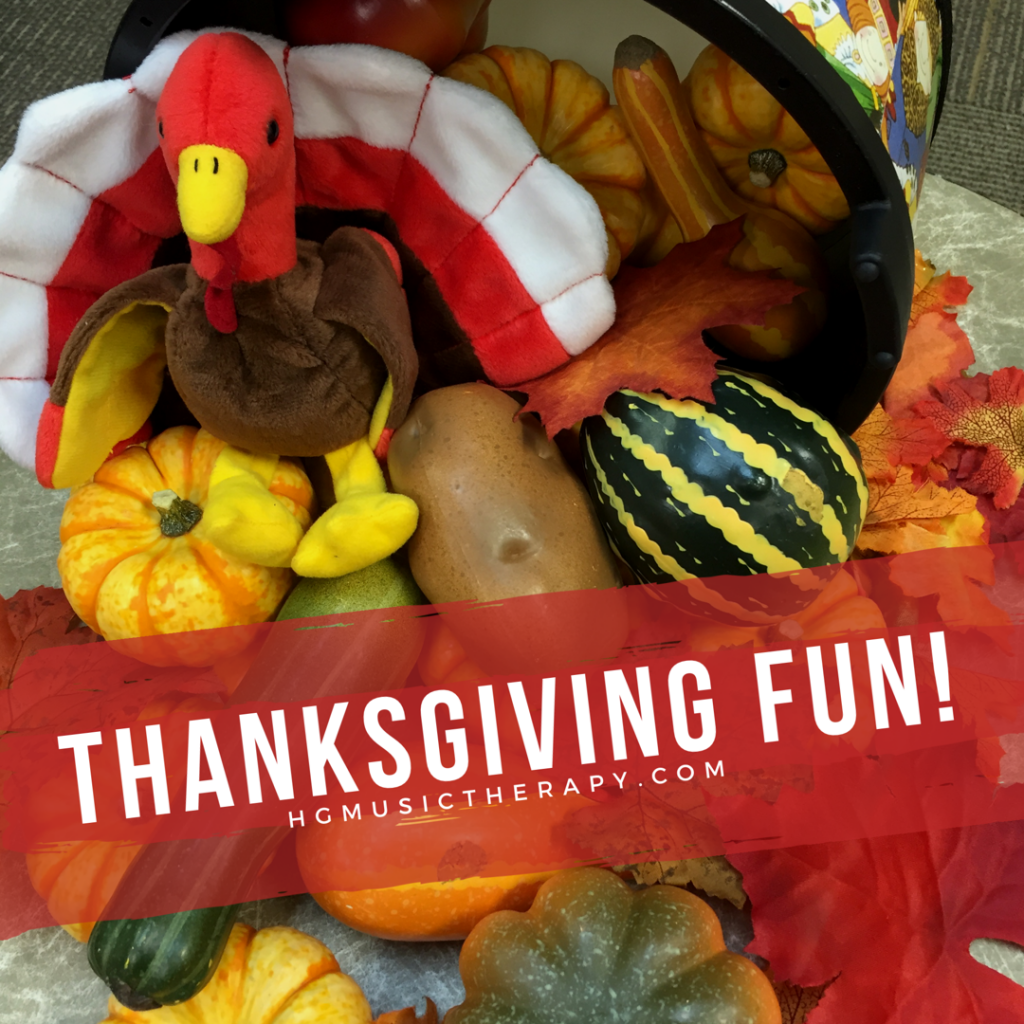 Let's not forget about Thanksgiving! I feel like it doesn't always get what it deserves. Tucked between the fun and spooky HALLOWEEN and the all consuming CHRISTMAS HOLIDAY SEASON! The turkey deserves his time.
So, let's talk songs to use for Thanksgiving. Keep reading!
1. Mini Pumpkins – The same ones we used last month for the song, "Pumpkins Roll Around." Let's keep them (they aren't rotten yet) and add in some veggie shakers to create a fun Veggie Shake chant! Today, I rolled around the mini pumpkins and then had them place them in the large floor drum (upside down) like a pot. When we added the shaker veggies, they could stir with their hands and make all kinds of fun sounds.
Then make up a chant similar to the following:
We love our veggies
We love our veggies
We shake our veggies
Because we love our veggies!
Then, ask the kids about the veggies (or fruit) they are shaking or like and enter those in the chant.
Jaime loves her brussel sprouts
Jaime loves her brussel sprouts
We shake our veggies
Because Jaime loves her brussel sprouts!
2. Who doesn't love Laurie Berkner!? She has two songs I like to use this time of year.
I'm Gonna Eat On Thanksgiving Day – If you memorize this song to do yourself, you can add lummi sticks for rhythm on the floor. I then ask the kids for ideas of what they are going to eat on their Thanksgiving Day. Whatever they say, create a verse to add to the song with their foods. It is a memorization challenge for the teacher and parents though! Have fun with it!
I Know A Chicken – Egg shakers and little kids pretending to be a chicken, wait…A TURKEY! "I know a turkey…" Have fun with it and don't forget to give Laurie Berkner love and props when you do!
3. Turkey Beanie Babies – I have mentioned in the past, I love beanie babies, and music therapy groups have allowed me to collect and play with them, without cluttering up my house! And, they get a lot of love from little ones in my class! I have collected some Turkeys over the years. Perfect for a few Thanksgiving Piggyback songs like this one:
Albuquerque Turkey
Tune of "Darling Clementine"
Albuquerque is a turkey
And he's feathered and he's fine
And he wobbles and he gobbles
and he's absolutely mine.
(For extended lyrics and other ideas visit this website)
Or for chants like this one:
A turkey is a funny bird,
His head goes wobble, wobble
And all he knows is just one word…
And that is GOBBLE-GOBBLE!
4. Scarves with song "Macaroni and Cheese" – I learned the song "Macaroni and Cheese" when I was in children's choir at church. It was used as a silly song to warm up our voices. I've never forgotten this song, and have never been able to find where it originated. Google can't even help me! There is a facebook live video on our YouTube channel, or watch it below! If anyone has heard it before, please let me know! Anyways, kids love mac and cheese and our family always has it as a part of our Thanksgiving feast! Perfect food song for this time of year!
Lyrics:
Macaroni and cheese, it makes me sneeze,
Macaroni and cheese, may I have some please
Macaroni and cheese, it makes me sneeze,
May I have some… Ah… Ahh… AHH-CHOO!
Bonus use of the song: Sing it as different sized animals. A mouse and sing up high. An elephant and sing it down low. Ask the kids what other animals they could be while singing. It's always a hit.
5. Fall leaves – I like to purchase the cloth ones from craft stores, but sometimes use real ones from the trees outside. Leaves are SO MUCH FUN this time of year! Especially in the parachute! I wrote a song, "Leaves Fall Down" and have used it this fall in my Sprouts Classes. It has worked really well, and the kids LOVE watching where the leaves go.
Enjoy! Be Thankful! Let me know how the songs work for you!