Welcome LeAnn Chin, MT-BC!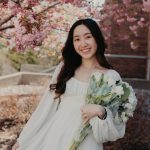 We are so excited to be announcing the hiring of our new full-time music therapist, LeAnn Chin, MT-BC! Make sure you take the time to greet her and welcome her to the office as she will be there Monday-Friday after her start date – that's right! Friday! Harmony Garden is beginning to expand our hours and days open.
LeAnn is a Singaporean Chinese who was born and raised in Malaysia. Malaysia is a country in Southeast Asia that is multiethnic and multicultural, hence allowing LeAnn to grow up learning several languages and cultures. LeAnn grew up taking piano, voice, and violin lessons. Her days were always filled with music and other extracurricular activities – playing basketball and netball. Other than music being a big part of LeAnn's life, she also enjoys spending time with family and friends, picking up new hobbies, and going on walks!
LeAnn is a new MT-BC in the music therapy field and is delighted to start her first job at Harmony Garden's Music Therapy Services. Before completing her Bachelor's degree in Music Therapy from Western Michigan University, she completed her 6-month internship at Riley Children's Hospital, where she worked with individuals in the Neonatal Intensive Care Unit (NICU), Hematology & Oncology Unit, Behavioral Health Unit, and more. Besides that, LeAnn also has experience working with other populations, such as older adults with Dementia and intellectual disabilities and adults with mental health disorders, throughout her practicum and internship.