From the Desk of Kara Lewis…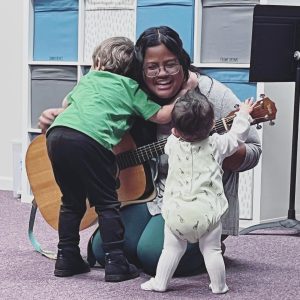 It's been a bit since our last "From the Desk of…" blog post. I just wanted to hop on and give a life update to all of our families – don't worry, I'll still be around! A few months after having my daughter, Oli, my husband was laid off from his job. Although he has been searching hard for a good permanent position, we never found one with the right hours or pay. We have decided to move to Kalamazoo due to there being many more job opportunities for him in that area.
My position at Harmony Garden over the years has shifted multiple times: full time salaried, part time hourly, off on maternity leave, and in January 2024, I will officially have a contract position here. I will be continuing to lead sessions on Tuesdays here in the office – so please know that I am still around!
I love leading Tuesday Creative Connections (formerly known as Day Program) and also love leading sprouts classes. I am so glad that I will still be able to make the trip to Jackson once a week to continue seeing my clients and families and can't wait to make more music with you all.