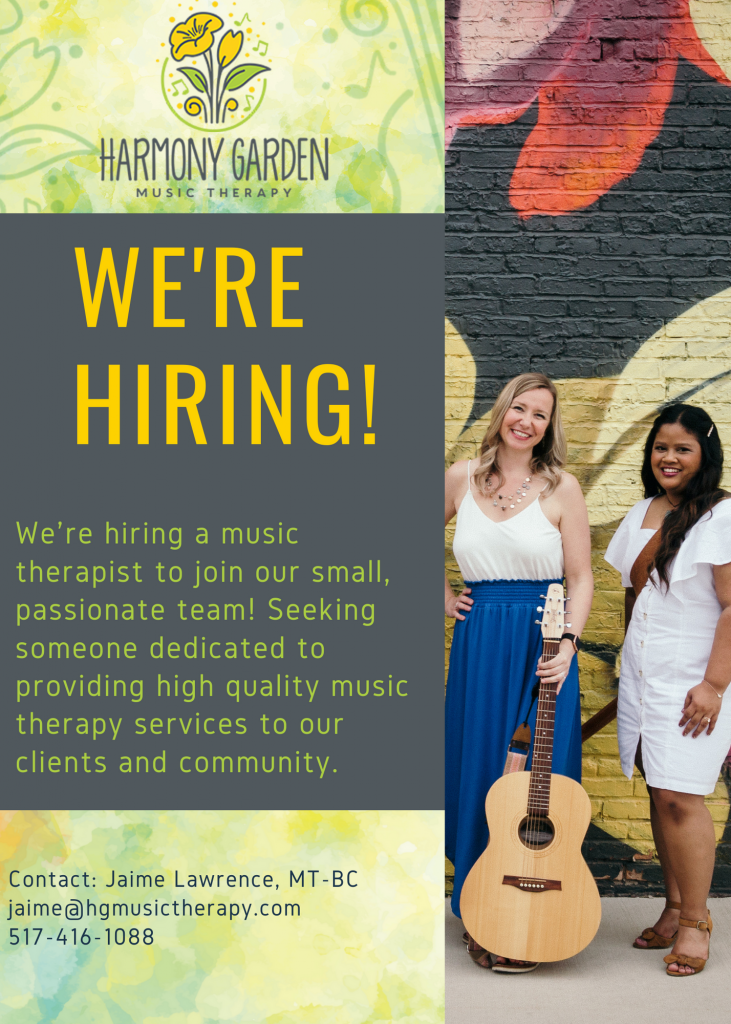 We're HIRING – Full Time Salaried Music Therapist Position 
Posting Date: July 13th, 2022
Application Deadline: July 29th, 2022
Name of Position: Music Therapist – Full Time Salaried
About Us: Harmony Garden Music Therapy Services, LLC was established in Jackson, MI in 2006, because the founder wanted music therapy in her hometown. Sixteen years later, Harmony Garden now includes a team and is still growing! Our small, passionate team is dedicated to our clients and community. At Harmony Garden, we are committed to celebrating and supporting diverse populations. We strive to root our music therapy practice in embracing, supporting, and respecting all of our clients and creating equitable and safe spaces for all walks of life.
Specific Job Details: Each board certified music therapist who works for Harmony Garden carries a diverse caseload including:
inclusive early childhood programming
individual/group music therapy sessions
children/teen mental health services
elder/memory care
hospice/palliative care
We are seeking someone who is motivated to learn and support diverse populations with music therapy. This position starts with 2-4mos of progressive training, observing, co-treatment, and leading sessions building to a full and diverse caseload.
Expectations:
Carry a full and diverse caseload of direct music therapy work
Completes administrative tasks such as maintaining client files, learning online systems, and attending staff meetings
Develop music therapy programming in new areas or contracts
Participate in community outreach and community music therapy
Collaborate with HGMTS professional team
Communicate with colleagues, clients, contracts, and families while being reliable, dependable and punctual
Comply with HGMTS Policies and Procedures and the AMTA Code of Ethics
Necessary Qualifications:
Bachelor's Degree in Music Therapy or Music Therapy equivalency required
MT-BC Certification (Music Therapist-Board Certified)
Clinical experience as a working MT-BC preferred, but not required. *Current MT interns may apply – however, the position needs filled by September 1st, 2022.
MUST be a diverse and clinically competent musician (at minimum) on guitar, piano and voice
MUST have a desire to work in private practice music therapy with a team of music therapists
Wage and Benefits:
Wage is based on experience, qualifying for an annual raise after two years with Harmony Garden
Employees of HGMTS receive professional liability insurance
Annual payment for CBMT fee
Annual stipend toward CMTE courses
Paid time off package
Employee retention bonus for qualifying length of service
Relocation stipend if applicable
Mileage reimbursement (with some job responsibilities)
To Apply:
Fill out this form and upload your resume!
Any questions, please contact Jaime Lawrence at 517-416-1088
Harmony Garden Music Therapy Services, LLC
763 W. Franklin St.
Jackson, MI 49201