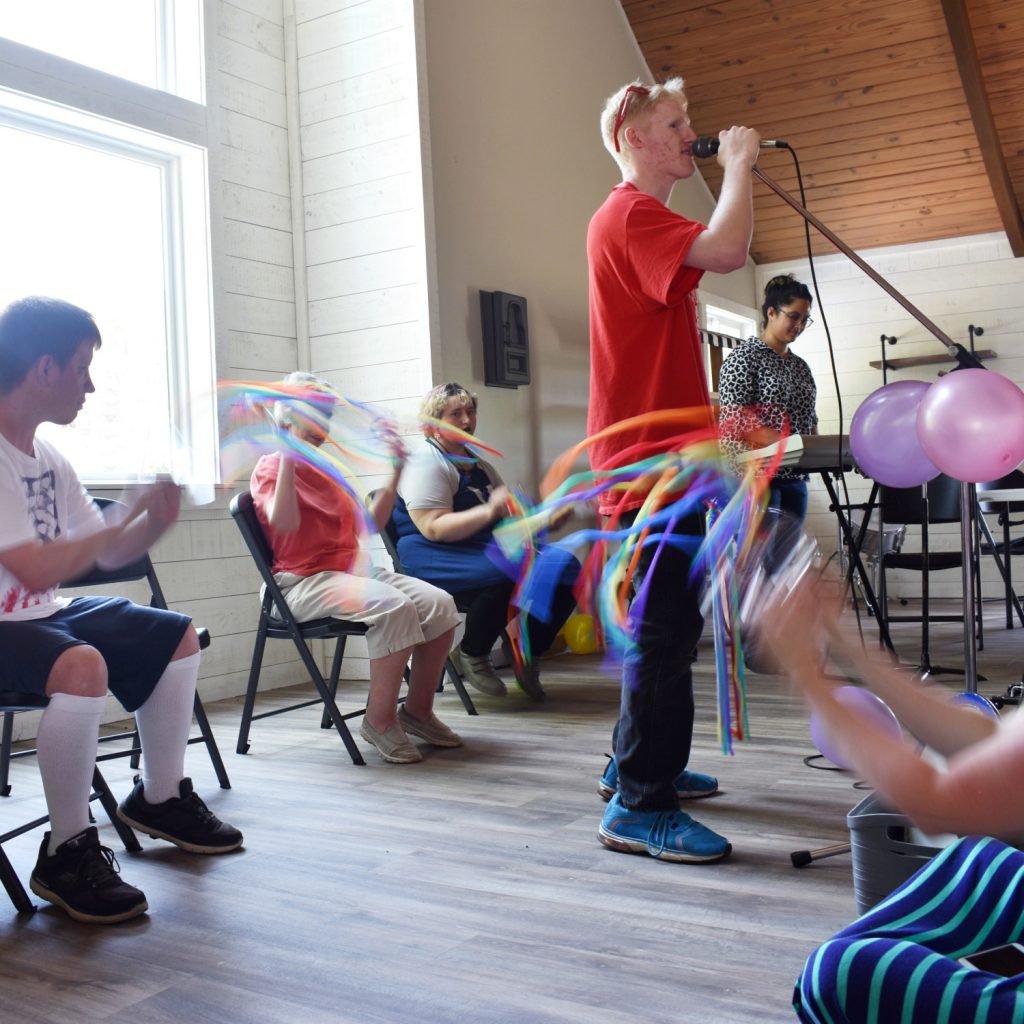 Harmony Garden Music Therapy Services Music Therapy Day Program makes music AND memories!  
Our weekly Music Therapy Day Program at HGMTS involves actively making music together, playing and singing together. In addition, we do crafts centered around music and the holidays to take home. We also provide opportunities for socialization, communication, expression, and self-awareness.
Our number one goal is to have as much fun as possible!
There are limited spaces and some individuals may require a parent or staff to stay with them, although we will try to encourage as much independence as possible.
Cost:
Monday Music Makers (2 hours): $120/month
Tuesday Tune Takers (3 hours): $150/month
Friday Recreational Music Therapy Group (1 hour): $80/month
$45.00 a DAY if you want to drop in for a day. You must call and register ahead – if a class is full, this is not an option.
All Day Programs take place at Harmony Garden Music Therapy Services (763 W. Franklin St., Jackson, MI 49201).
2019-2020 Music Therapy Day Program
Monday Music Makers: Mondays, 1:30pm-3:30pm (2 hours)

Sept 9, 16, 23, 30
Oct 7, 14, 21, 28
Nov 4, 11, 18, 25
Dec 2, 9, 16, Jan 6 (no group 12/23 or 12/30)
Jan 13, 20, 27, Feb 3
Feb 10, 17, 24, March 2
March 9, 16, 23, 30
April 6, 13, 20, 27
May 4, 11, 18, 25
Cost: $120/month
Tuesday Tune Takers: Tuesdays, 12-3pm (3 hours)
Sept 10, 17, 24, Oct 1
Oct 8, 15, 22, 29
Nov 5, 12, 19, 26
Dec 3, 10, 17, Jan7 (no group Dec 24 & Dec 31)
Jan 13, 20, 27, Feb 4
Feb 11, 18, 25, Mar 3
March 10, 17, 24, 31
April 7, 14, 21, 28
May 5, 12, 19, 26
Cost: $150/month
Friday Recreational Music Therapy Group: Fridays, 12:30-1:30pm (1 hour)
Sept 6, 13, 20, 27
Oct 4, 11, 18, 25
Nov 1, 8, 15, 22 (no group Nov 29)
Dec 6, 13, 20, Jan 10 (no group Dec 27 & Jan 3)
Jan 17, 24, 31, Feb 7
Feb 14, 21, 28, Mar 6
March 13, 20, 27, April 3
April 10, 17, 24, May 1
May 8, 15, 22, 29
Cost: $80/month