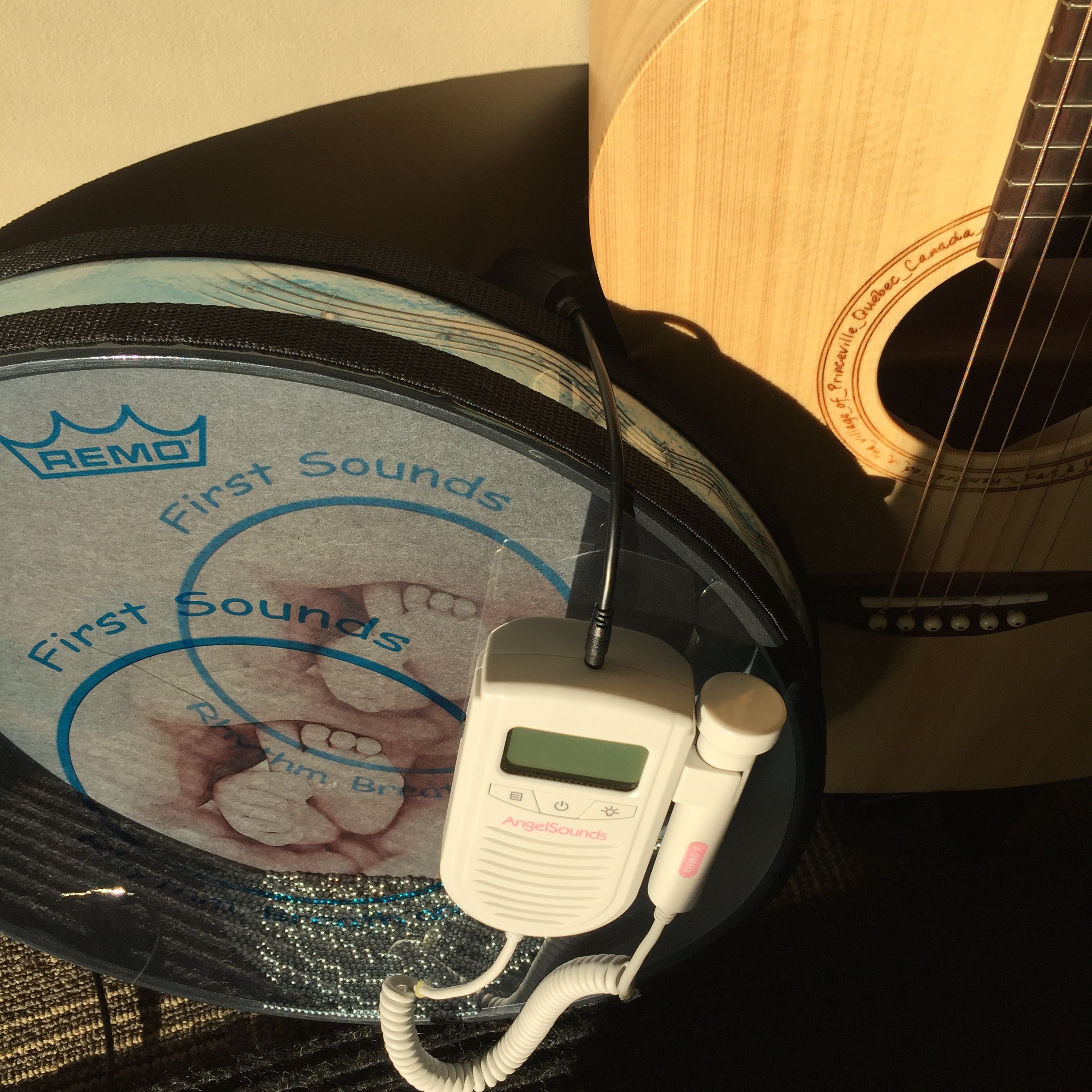 Harmony Garden Music Therapy Services is here to help you create a beautiful recording of your baby's heartbeat to remember this special time. 
When pregnant, the first time you hear your baby's heartbeat is one of wonder. It gives comfort. It provides a concrete moment where you connect with your baby before ever holding him/her. Do you wish you could hear it again, after your baby is in your arms?
A recording of the baby's heartbeat can be set to music of your choice for you to have as a keepsake of your pregnancy to celebrate your growing baby. A recording of the mother's heartbeat can also be set to soothing music or lullabies to calm the new baby during nap times, and may remind the little one of the comfort of the womb.
How it works: 
The recording is taken with a fetal doppler, which is placed near the mother's heart to record her heartbeat, and/or on the mother's belly to record the baby's heartbeat.  It touches the mother's skin with a little bit of lubricating jelly, only takes a few moments, and is completely safe.  You must be at least 24 weeks pregnant to ensure a clear recording of your baby's heartbeat. Contact us to get started.
Details:
One in-person meeting with a music therapist to record the heartbeats and discuss music that will go with the recordings. Additional communication about the song through email or by phone if necessary.
A digital recording of the baby's heart beat (must be at least 24 weeks pregnant)
A digital recording of your chosen lullaby performed by you or your music therapist, with piano or guitar accompaniment, mixed with the sound of the baby's heart beat.
Cost: $185
When: 
Anytime! We schedule the heartbeat recordings around your schedule. All heartbeat products will be completed and delivered within 3 weeks from the date of recording.
Additional Service Costs:
A digital recording of the mother's/father's heart beat with soothing guitar or piano music – $75
A session with the music therapist to write a personalized lullaby for recording – $65/hr
A video created with photos you send us with the lullaby playing in the background (max of 15 photos) – $95
Frequently Asked Questions:
Q: Can you turn a recording I have from a previous pregnancy into a lullaby?
A:  YES! Send us the heartbeat recording and we will see if we can use it. If we can, we will do the lullaby for you for $179 ($10 discount).
Q: I'm currently pregnant, but don't live anywhere near Jackson, MI. Can I have an lullaby created?
A: YES! We can help you record your own baby's heart tones with a phone consultation, or you can ask your OB or midwife to help you get a recording and then send it to us! We can talk about our needs, and then go from there!
Q: My child is often in and out of the hospital. Can you do a heartbeat lullaby for my child so we can have the keepsake to celebrate who they are?
A: YES! Please call us so we can find the best way to get the heartbeat recording. We will then go from there to help you create the perfect heartbeat lullaby/song for your child.
Q: My parent is on hospice services and I would love to have a keepsake for myself or my mom/dad to keep after their spouse is gone. Can we do a heartbeat recording for my adult parent as a keepsake?
A: YES! We work in hospice and palliative care and ABSOLUTELY can do this for you and your family. Keeping part of them alive in this way for you would be our pleasure. Call any time!