Part Time Office Assistant Needed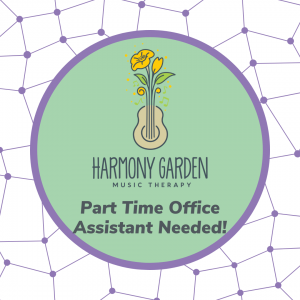 Harmony Garden Music Therapy Services is looking for a friendly, dynamic, and helpful individual to be our new Office Assistant. Harmony Garden was established in Jackson, MI in 2006. We are a music therapy and early childhood music provider that serves a diverse caseload – early childhood, special needs of all ages, mental health services, memory care, and hospice. An Office Assistant for Harmony Garden must develop a basic understanding of what music therapy is and have an ability to work well with others. This person will have a visible role in greeting our clientele and must be personable and informative.
Responsibilities:
Harmony Garden Office Assistant Tasks:
Greet clients and families and answer basic questions

This is an onsite job position visible to families in our office
To be knowledgeable on our programs and on music therapy services

Help keep the office organized and tidy

Maintain and track inventory of basic office supplies
Maintain and track instrument inventory and report broken items
Maintain client files and keeping information up-to-date

Manage Harmony Garden Sprouts class and other group enrollments

Utilize our computer enrollment program and Google shared docs to manage up to date enrollment
Manage the class texting program
Create online enrollment forms for classes

Basic account assistance

Creating invoices, entering, and receiving payments
Tracking overdue invoices and reporting to supervisor
Requirements:
Technology Requirements:
Must be competent and quick to learn computer and website programs

Google Suites/Gmail
Online enrollment programs
Word, Excel, PowerPoint and related Google Docs
Collaborative Participation:
Effectively acts as a Harmony Garden MTS team member
Collaborates with HGMTS staff
Effectively communicates with HGMT colleagues, students and families
Is reliable, dependable, and punctual
Complies with HGMTS Policies and Procedures, which may involve outside trainings for contracts
Complies with American Music Therapy Association Code of Ethics
Necessary Qualifications:
Degree:
High School Diploma or equivalent
Associates or bachelors degree preferred
Experience and Requirements:
MUST have a desire to work for a small business in Jackson, MI
Must have reliable transportation
Wage:
Wage based on education and experience in the field
This job is part time to start
To Apply:
Mail or email cover letter and resume to the following no later than February 7th to:
Harmony Garden Music Therapy Services
763 W. Franklin
Jackson, MI 49201
jaime@hgmusictherapy.com
Any questions, please contact Jaime Lawrence at 517-416-1088.