Just Checking In…From The Desk Of…Erin Baumler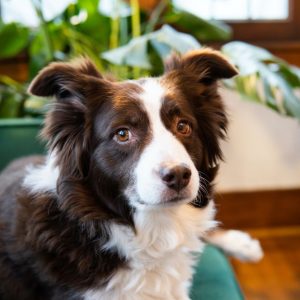 I've now been at Harmony Garden for about a month and a half, and I am finally starting to feel settled in! For the first month of working here, I was driving from Grand Rapids while I looked for a place in Jackson—I've never been more grateful for a short commute to work! I've slowly been exploring the town and checking out the parks with my dog Pip.
These last few weeks have been a whirlwind of learning about all the different programs HGMTS offers and slowly building up my schedule as in-person groups and sessions start back up. Jaime and Kara have both been very supportive as I get to know the different day-to-day aspects of the job. I've also really enjoyed getting to meet so many wonderful clients and families in my individual sessions and groups. I'm really looking forward to all the fun things in store for this summer—I'll be leading some day camps, outdoor Sprouts classes, and the monthly drop-in groups.
Just for fun, here's a little bit about me!