Announcing…Milestones through Music!
A mommy-and-me style class for infants (newborn – 9 months) focused on developmental milestones.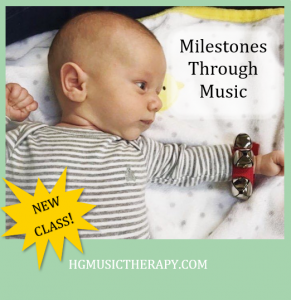 Details:
Harmony Garden Music Therapy Services is pleased to offer Milestones through Music, a music class focused on developmental milestones including tracking, developing grasp, cause and effect, tummy time, and bonding. We support and guide parents and caregivers through using music as a tool for infant development. These classes are led by Kara Lewis, board certified music therapist.
Each class is structured to provide opportunities for tracking, baby sign language, developing grasp, tummy time, bonding, visual stimulation, cause and effect, and more! Come to class ready to play instruments, sing, and interact with your little one in an infant-focused music class.
This class runs weekly and is offered on multiple days/times. We change and adapt the music materials weekly so that this class will constantly teach you new songs and ways to bond/interact with your baby.
When:
Mondays from 9:15-10:00am
Mondays from 6:00-6:45pm
Tuesdays from 8:45-9:30am
Wednesdays from 2:15-3:00pm