15 Years of Harmony Garden Music Therapy Services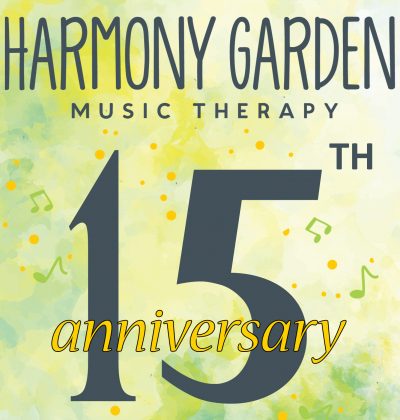 2021 comes with an exciting milestone for Harmony Garden…our 15 year anniversary! Harmony Garden and Jaime Lawrence have been serving Jackson County and surrounding areas for FIFTEEN YEARS! Over the past 15 years, Harmony Garden has made its home in many buildings around town; starting in a single rented room all the way up to our current office building that has two full treatment rooms, office area, waiting room, private office for Jaime, and a staff lounge. Harmony Garden has also given jobs to many music therapists over the years including: Bekah, Marissa, Ian, Jennifer, Masina, Shelby, Kara, Macayla, Hannah, and Erin.
BUT
No matter what building and what music therapist there was over the years, our forever constant is the love and business of all our families! Harmony Garden would be nowhere without all of you: our Sprouts families, our Day Program participants, our individual clients, and the many, many facilities we have serviced over the years. We are so grateful for everyone who has been a part of our 15 year journey.
Because of that, we want to invite you and your family to our 15 year celebration.

What to Expect:
The Details: Cascades Park Rotary Bandshell on June 15th at 6pm
Music. Not only will the current music therapists be singing and playing all of your favorite songs, but we are asking some of our client groups to perform with us! Hear the Tuesday Day Program and friends perform "Lean On Me" and some of our Sprouts Families sing "Matilda the Gorilla".
Familiar Faces. We will be inviting all former music therapists back to perform with us at this event. Make sure you come and see who might show up! And of course, come socialize outside "socially-distanced" style with other Harmony Garden families.
Access to our Melodies and More free resources. Many of our early childhood families are familiar with the Early Childhood Grant Groups we facilitate throughout the community. This year, these grant groups look a little different as Jaime has been working on a very exciting recording project in which some of our Harmony Garden original songs have been recorded so that you and your family can listen to them anytime you want! Come to this event and you'll be able to gain access to these resources and also receive a free instrument!
Time Outdoors. This event will be held at Cascades Park's Rotary Bandshell. Please bring chairs or blankets and any instruments you want from home, for your own use and comfort.
Fun for Free. This event is completely free although we will be accepting donations for our scholarship fund. This fund goes to supporting families who may not otherwise be able to pay for music therapy services but truly benefit from this service.